Top Ten Tuesday time! This feature is hosted over at
The broke and the bookish
and this week the topic is
top ten series I've been meaning to start but haven't yet! If I listed off all the series that I have meant to start but haven't yet, it would crazy long! So instead I'm gonna go only with the series I haven't started that are on my bookshelves. This is gonna be embarrassing and hopefully a WAKE UP call for me!
1. Red Queen series by Victoria Aveyard.
I own the first book and bought it a long time ago, probably when it frist came out! I must of bought it during my awful reading slump! (that's gonna be my excuse anyway). I need to start it this year!
2. The Infernal Devices trilogy by Cassandra Clare.
I know, I know! But in my defense, I blame it on the fact that I couldn't finish City Of Ashes! I just couldn't get through it! But everyone says this series is way better so I still am gonna give it a try!
3. The Seven Realms series by Cinda Willi
I've had it forever! I even have the second novel! Another one That I swear I'm gonna start it this year!
4. The Cahill Witch Chronicles by Jessica Spotswood
I also bought this book forever ago and just haven't picked it up! And I love that cover so much! I heard they've changed them and that they aren't as pretty as this one... :(
5. Across the Universe trilogy by Beth Revis
Another book I bought long, long ago! I don't even remember what the synopsis says! I should be ashamed of myself!
6.
The Iron Fey series
by Julie Kagawa
I cant even come up with an excuse for this one...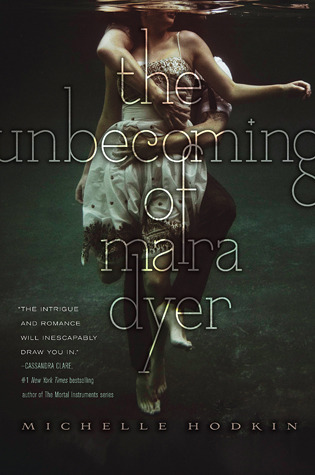 7. The Mara Dyer trilogy by Michelle Hodkin
No more excuses left in me...
And That's all of them I think... Wow. I'm a mess. And I cant even begin to count all the series I've started but haven't finished...
Well now that I've shamed myself, hopefully I'll hold myself accountable! Also I need to work on my impulsive buying habits! Let me know what series you haven't started yet but have been wanting to!