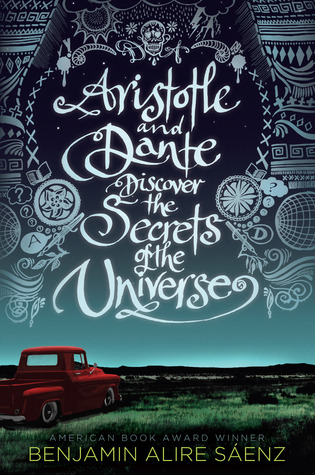 Aristotle and Dante Discover the Secrets of a Universe
Benjamin Alire Saenz
359 pages
Published February 21st 2012 by Simon & Schuster Books for Young Readers
Aristotle is an angry teen with a brother in prison. Dante is a know-it-all who has an unusual way of looking at the world. When the two meet at the swimming pool, they seem to have nothing in common. But as the loners start spending time together, they discover that they share a special friendship—the kind that changes lives and lasts a lifetime. And it is through this friendship that Ari and Dante will learn the most important truths about themselves and the kind of people they want to be.
So I had heard from many, many people that this book was one of the most incredible books they'd ever read and so I went out and bought it expecting the same. And the book itself has won bunches of awards! So yeah, I completely believed the hype and was pretty excited to read it! Well... I did not get the same feeling from this novel as everyone else. And actually, I believe that I would have enjoyed it way more if I hadn't been spoiled by a couple people on goodreads. And I don't know if people don't realize that they're spoiling the book but ... they are. However, before you read on, if this is one of your favorite books in the world please don't take this review as a negative one! Just cause I didn't enjoy it as much as you or everyone else doesn't mean that the book itself is not good!
Plot: There is none. The book is basically all dialogue. Nothing really happens. And I'm a person who is very plot driven. Don't get me wrong, I enjoy character development too. But I like for there to be an even amount of plot and character development in my books. So I was pretty bored with this novel.
Characters: The Parents and Dante were the best! I loved Dante and thought he was the most precious human being ever! I wish we had gotten his perspective instead of Ari's. And I loved how loving and involved the parents were! We never get to see that in YA novels! We need more family heavy YA books out there!
Setting: Like I said, the book was mostly dialogue so...
At its best: The relationships between the boys and the boys and their parents is what really made me enjoy this book! I loved seeing how much the boys loved their parents! And the parents were the sweetest people ever! Especially Dante's parents! I also loved the representation of an American/Mexican family. I am American/Mexican and I could relate to so many things in this book! Especially the way Dante felt about his heritage. (that part hit me deeper than I thought it would!)
At its worst: Honestly the worst part about this book was Ari. And that was unfortunate since he's the perspective we have to read through. He was just so angry and moody all the time! and I under stand that it was because he was going through changes with himself but I just didn't wanna deal with it! Also the Writing style just wasn't for me! I could not connect with it at all. A lot of the dialogue was so random and unnatural. The way some of the conversations read were very weird and short. I just didn't get it.
Read again: Probably not, but I would recommend it to other people looking for books like this one.
Final thoughts: I didn't enjoy this book as much as I thought I would. Like I mentioned above, I think the book was spoiled for me. If I hadn't known what would happen at the end, I might have actually been pleasantly surprised! But the writing style just wasn't for me and the book itself just dragged for me.
Rating: 6/10